The second largest Portugal city with 1.3 million citizens is one of the most beautiful places in Western Europe. It's personally my favorite big city as I do not like crowds. Despite its large population, the city still feels quiet and not as crowded as other big European cities.
What really put this place on the map was the world-famous Port wine, but there is so much more to it! Surrounded by the beautiful beaches of Costa Verde shoreline, the heart of Porto is a Cultural Heritage of Humanity by UNESCO, and it's a must-visit destination for every history lover. You can spend hours wandering the mazes of the narrow, cobbled streets, exploring museums and unique architecture, relaxing by the Douro river. There's a heavy emphasis on history, art, culture, and food in Porto—and there's something for every traveler to discover and love.
Just like the capital city Lisbon, Porto is a very walkable city; the hills might give you a good workout but it's definitely worth it. Most of the main attractions are close to each other (at most 15–20 minutes away on foot), you can see a whole lot in a short period of time. Make sure to wear comfortable shoes.
If you don't like to walk, you can buy a Porto card that gives you access to unlimited transportation on the metro, buses, and funiculars, in addition to discounts on popular attractions.
To be honest, I personally prefer Porto compared to the capital: this place just offers different vibes. It took me less than 10 minutes to fall in love with this authentic place, and while it's still pretty touristy, the city gave more of a local vibe to me. I love how Porto remains authentic and affordable, full of green spaces and 19th-century gardens, lavish mix of baroque, gothic, neoclassical and beaux architecture, magnificent cathedrals, and so much good vegetarian/vegan and gluten-free food, which is a super important factor for me, living with food allergies and intolerances.  And ohh, the sunsets were just so glorious over the Douro river!
Interesting fact: Porto is the country's original capital, and lent its name to the country in its early days before the capital was moved to Lisbon in 1255 at the end of the Portuguese Reconquista.
I personally think 2 days is enough to discover the city, but if you have more time, take a day trip to Douro Valley, a beautiful UNESCO World Heritage Site close to Porto and the birthplace of port wine. I can not give you advise on the Port wine, as I rarely drink nowdays. I originally took a 2 days break to explore Porto while I was on my Camino, and I purposely didn't drink any alcohol on my journey. By the way, Porto is another starting point for the Camino, and more popular than Lisbon. From here, walking to Santiago de Compostela takes about 230 kms, and around 11–14 days, depending on which route you take. So the chances of meeting pilgrims and seeing Camino signs is very high.
But let's hop on what to see in this colorful, mesmerizing city, shall we?
Must-see sights
Ribeira
Porto's old town encompasses the Medieval harbor and riverfront with colorful, historic houses and tiny, windy alleyways all leading to the Douro River where you can find lots of restaurants and bars with spacious terraces. By night, Ribera comes alive! People from all over the city come to enjoy local delicacies while taking in the fantastic views of Dom Luís I Bridge and Vila Nova de Gaia.
Baixa/Sé
Baixa is Porto's downtown area, the buzzing city center and I can promise you that it will be crowded, but you'll be close to all the action! It's super central and close to many attractions you might want to visit, such as Avenida dos Aliados, São Bento railway station, Rua das Flores, Clerigos Church and Tower, city hall, the Cathedral and the crazy popular Lello bookshop. If you're into nightlife, you'll be pleased to know that this area has the city's liveliest nightlife.
Porto Cathedral
Sé do Porto as the locals call it, stands on the top of a hill in the historic center, the large Roman Catholic Church is the most important religious building in the city. The Camino Portuguese starts here as well. Constructed in the 12th century, one of the oldest buildings in Porto,  inside, you'll see the stunning mix of Baroque, Romanesque, and Gothic architectural styles that make the church so unique.
Igreja dos Clérigos and climb up the Clérigos Bell Tower
Igreja dos Clérigos is a gorgeous Baroque church that's a true icon of the city, built in 1732. While the church's facade is full of interesting Baroque symbols, its main draw is the panoramic views of Porto at the top of Clerigos Tower. The impressive tower stands at 249 feet (76 meters), making it the tallest of its kind in Portugal. It's pretty difficult to miss Clérigos darting above the rooftops when wandering around Porto. Prepare to climb about 240 steps—a good way to work off your lunch. I don't usually go inside churches, but this is one you definitely don't want to miss.
Livraria Lello
Livraria Lello Bookshop is a slightly controversial stop. Often described as the most beautiful bookshop in the world (I can hardly disagree with this), dating back to 1881, the bookshop is features neo-Gothic and Art Nouveau interiors. What makes it even more popular is that rumor has that J.K. Rowling drew inspiration from Livraria Lello when she was in Porto crafting the first drafts of her now-famous books. Though she later revealed she's never been at this book store, HP fans still visit the Livraria Lello. So prepare for long queues—and you even need to pay an admission fee to get inside (understandable as most people only come to look, preventing actual buyers from getting in.)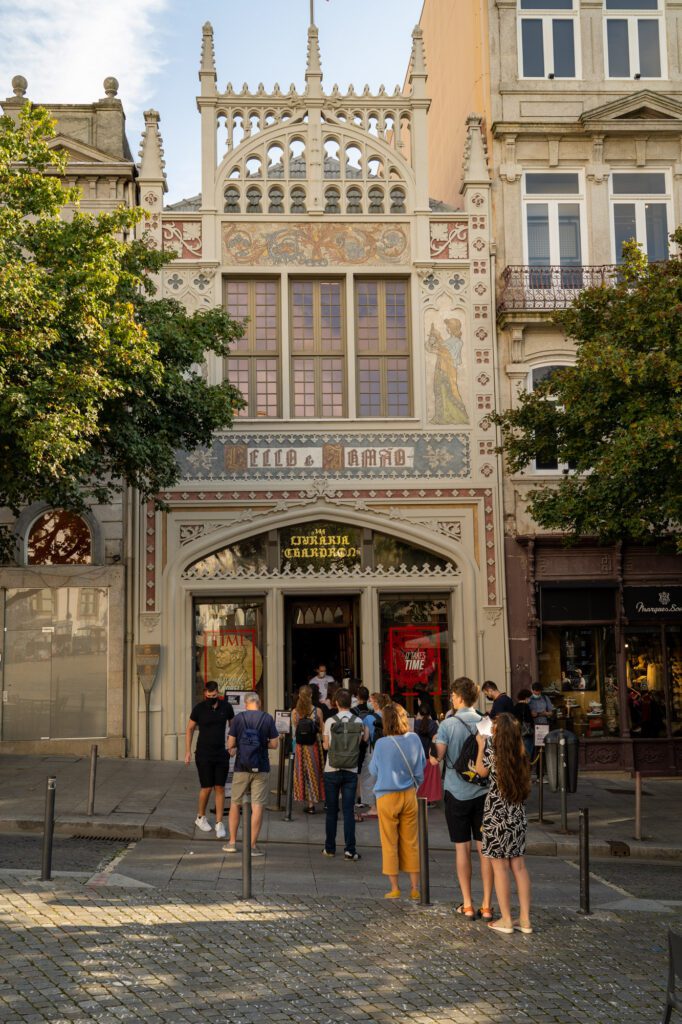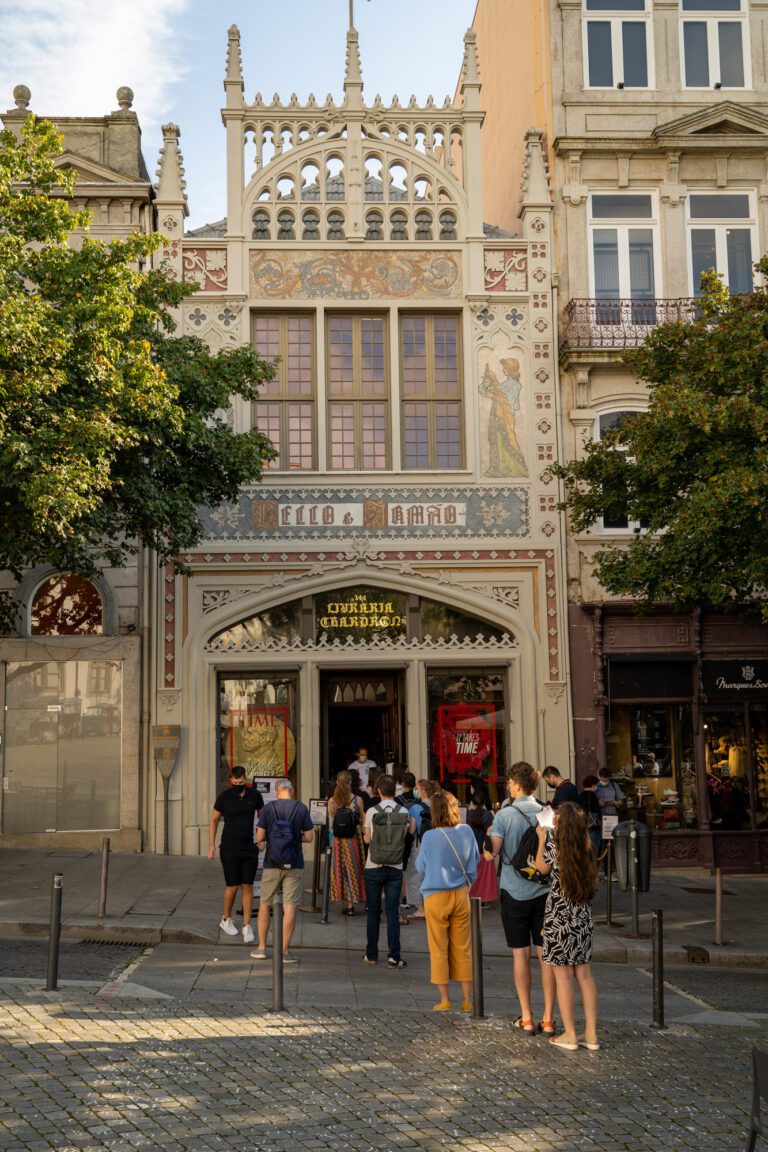 Tiled Churches and buildings around the City

Porto is full with blue and white tiled churches—an exquisite sight and one of the things I most loved in Porto. It's hard to miss any of these churches covered with traditional Portuguese ​​'azulejo' tiles, but here's a few you can visit:
Igreja Carmo & Igreja Carmelitas: 18th-century Baroque-Rococo twin-church is one of the oldest buildings in the historic part of Porto
Capela das Almas: this small chapel in Bolhao has become one of Porto's most photographed landmark
Sao Bento Railway Station: the beautiful azulejo decorations make the train station one of the most beautiful stations you can find in Europe
Igreja de Santo Ildefonso: Close to the railway station, baroque 18th-century church at the top of a hill in Old Town with over 11,000 azulejo  ceramic tiles
Chapel of Souls (Chapel of Santa Catarina): the Chapel of Souls is by far superior with its magnificent exterior of 16,000 blue & white tiles
Rua Santa Catarina
This is Porto's main shopping street with plenty to see, from local boutiques and international shops, to the Chapel of Souls and Majestic Cafe ( where J.K. Rowling supposedly worked on her Harry Potter books). I walked here in the morning to avoid crowds but the area is so romantic it was still as memorable.
Rua das Flores
This 500 year old street is lined with chic cafes, souvenir shops, hip boutiques, and tasty restaurants. The wrought-iron balconies and tile work on the buildings makes it absolutely stunning!
Palacio da Bolsa
A Neoclassical 19th-century palace  is classified as a National Monument and a UNESCO World Heritage Site.
Vila Nova de Gaia
While this neighborhood has some gorgeous views (go to Miradouros of Vila Nova de Gaia), it's on the opposite side of the Douro River and is actually considered a different city! Getting to the main attractions and using public transport will be a bit tougher from here. But really worth the visit for the views, especially by night. I had a pretty nice time crossing the Dom Luis I bridge to Vila Nova de Gaia until I realized how high it is and that you can see through the little gaps of the tiles – which scares the sh*t out of me, so think about if you want to go by walk or use public transport to get you over in no time.
All the popular Port wine cellars are located across the river in Gaia, where ALL the port wine in the WORLD originates. Naturally, there's plenty of cellars and historic port houses offering tours and tastings.
You don't wanna miss out on a Porto sunset either. The golden hour over the city is legendary, especially from Vila Nova de Gaia (even the locals say so!).
After a busy day walking around the city, you'll no doubt be hungry and ready for a well-deserved lunch/dinner.
For vegans/vegetarians I really recommend Remedio Santo, with their healthy, house-made, plant-based food in an environmentally-friendly manner.
O Porto dos Gatos is a fully vegan coffee shop and restuarant with cats.
Nicolau Porto is one of my favorite places in Porto, close to a lot of Porto's main attractions so it's a good spot to grab a bite before doing some sightseeing. There are lots of vegan and gluten free options and it's all pretty healthy too.
Alternative Burger is a vegetarian, gluten-free restaurant serving burgers and sides with plenty of vegan options.
DaTerra is a fully vegan all-you-can-eat buffet. The food is really good here and you can refill your plate as much as you want. There are a few different DaTerras dotted around the city but the main one is located close to Sao Bento station.
A fully gluten free bakery and cafe, Com Cuore is right in the centre of town and is a really reliable spot to grab some lunch or an afternoon treat.
Beiju is fully gluten free as they specialise in sweet and savoury tapioca crepes, which are naturally gluten free. It's grab n go type food and makes for a perfect quick lunch.
Urbana haa loads of gluten free choices and is focused on healthy food.
Porto Honest Greens, on Rua Santa Catarina is great spot for a quick meal that's safe and delicious for Celiacs.
__
Photo: Imola Toth